Cascade visuele communicatie Website

The portfolio for Cascade focuses on cleanly presented visual identity work: reports, branding and wayfinding.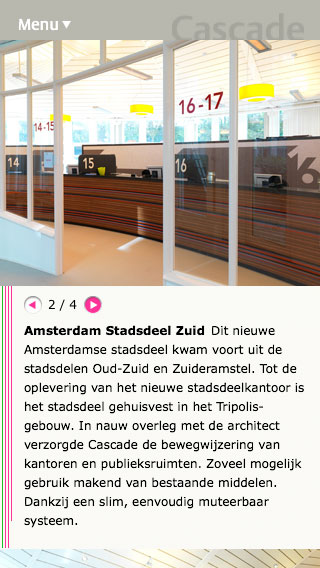 Cascade is a corporate design agency in Amsterdam. While working there I designed several iterations of the website. This version has a responsive front end for smartphone, tablet and desktop. We used a Mobile First strategy for this, and were able to improve on the desktop version by focusing on the essentials.
We started with the main content of the site: the project portfolio. For the smartphone we chose an image carousel to encourage swiping.
The mobile pattern we used improved the desktop version. Tests showed that users found it a more intuitive solution than the lightbox pattern we used previously. A collapsible menu for the smartphone and tablet versions keeps the main emphasis on the content.



2012
Cascade visuele communicatie
Services
Interaction design;
Visual design;
Front-end development
Platform
WordPress