The Amazing e-ticket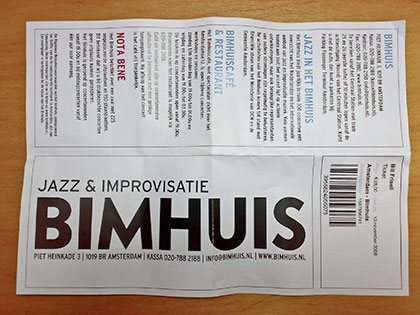 Last Wednesday I got my ticket for the Bill Frisell gig at the Bimhuis directly from their website. First off, I like the concept. You order a concert ticket online, then you print it yourself. You come at the place and your self-printed ticket appears to be valid. Still: I actually pay you to print something myself, which doesn't look like a ticket at all. The experience is totally utalitarian. There's no classic ticket feel about it.
Tickets frequently have some kind of watermark to prevent them from being counterfeited. Of course these marks are missing. But the ticket could be made to look more valuable.
On the other hand, if you like the utilitarian aspect, think about this. Since the concertgoer prints on a single sheet of A4, the Bimhuis used the remaining whitespace for some information about themselves. Now wouldn't it be nice if you actually had the information about the concert on there? It wouldn't need to be specially designed; just reserve a fixed block for a photo and a few lines of text.
Some people might cut out the actual part with the barcode, which makes the ticket smaller and allows it to be put into small pockets more easily. There's no symbol of scissors though, so I guess this is not a recommended action. Which bothers me; I know I paid for this piece of paper, but would cutting it out be ok? Or would I invalidate the ticket by doing that?
Read about the not so Amazing e-ticket Online Ordering Experience.